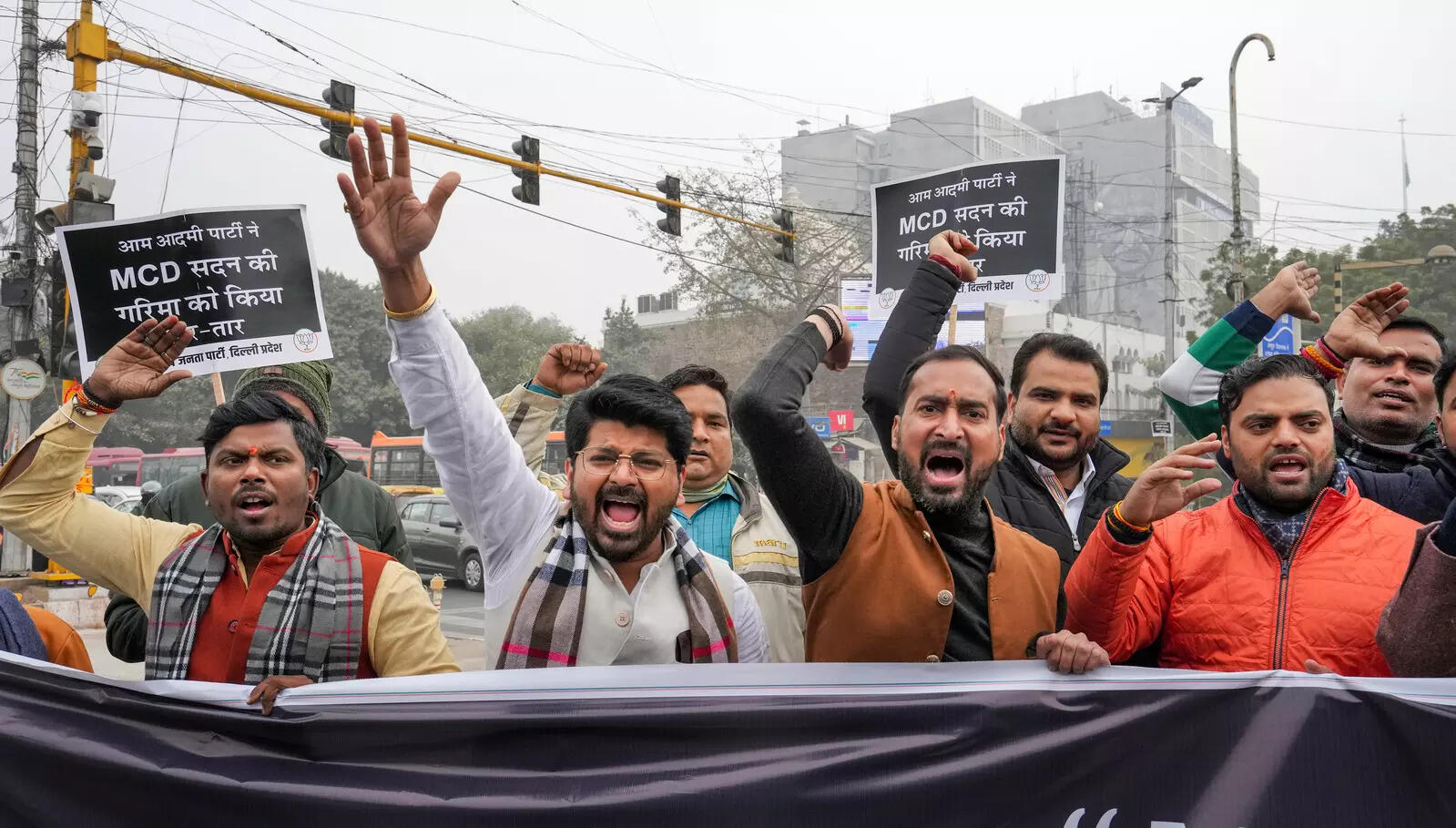 NEW DELHI: After the chaotic end to the first meeting to elect the new mayor and deputy mayor on January 6,
BJP
and AAP still appear to be at loggerheads ahead of the meeting convened for Tuesday. The AAP has agreed with the agenda, which lists elected representatives taking oath first. BJP, in contrast, has not cleared its stand and Virendra Sachdeva, working president of the party's Delhi unit, said
MCD
presiding officer Satya Sharma would have to decide on whether the elected representative or nominated members would be sworn in first.
Sharma said she would have to speak with the municipal secretary and did not clarify if elected representatives or nominated members would take oath first.
AAP and BJP not on same page
The maiden meeting of the newly elected MCD on January 6 was adjourned without the election of the mayor and deputy mayor after protests by AAP councillors against the presiding officer's decision to administer oaths to the 10 nominated aldermen before the councillors. Only four aldermen could take oath before the House plunged into chaos, with AAP alleging it to be a BJP-led conspiracy to get the aldermen to unconstitutionally vote for the mayor and deputy in subversion of municipal norms.
According to the agenda for Tuesday's sitting, first the councillors will be sworn in, then the aldermen. Following this will be election of the mayor, deputy mayor and then the six members of the Standing Committee, according to Durgesh Pathak, AAP functionary in charge of MCD. "We humbly request BJP to also accept, respect and fully cooperate with this agenda and to follow the Constitution of India," said Pathak.
BJP spokesperson Harish Khurana said, "BJP has always wanted the House to run peacefully. We do want the House to function peacefully." When asked who would be sworn in first, the elected or nominated members, Khurana said, "This is the presiding officer's prerogative. I don't understand what the controversy is. What difference does it make who is administered the oath of office first?" He wondered why AAP, which claims to have a majority in MCD, was "terrified" about the matter.
While AAP won 134 wards, BJP took 104, while the Congress won nine seats in the 250-member municipality. Shelly Oberoi and Ashu Thakur are AAP's contenders for the post of mayor, with Oberoi said to have a stronger claim to the post. BJP has nominated Rekha Gupta to fight for the post.
The candidates for the post of deputy mayor are Aaley Mohammad Iqbal and Jalaj Kumar from AAP and Kamal Bagri from BJP. Besides the mayor and deputy mayor, six members of the MCD's Standing Committee are also to be elected during the January 24 sitting.