AMRITSAR: Punjab Police and the Border Security Force (BSF) teamed up to shoot down a high-tech drone worth Rs 10 lakh on Saturday night and then seized its 5kg heroin payload.
The hexacopter that droped in the area of Kakkar border out post (BOP) is the sixth drone shot down in less than two months. Amritsar (rural) SSP Swapan Sharma said upon noticing drone movement, police had shared inputs with the BSF and jointly conducted a search operation 2km from border.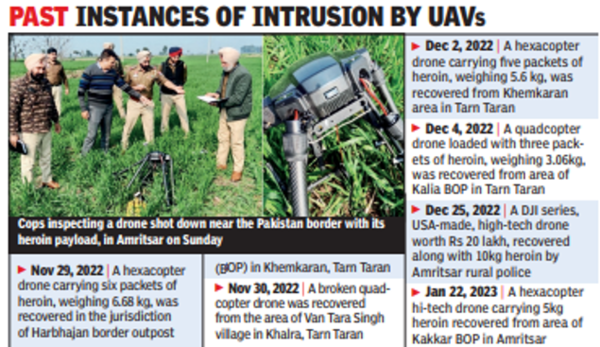 Police fired 12 rounds of AK-47 to shoot down the drone fitted with US and Chinese parts and infrared-based night vision camera and GPS.
Police had rounded up two persons from the spot when they were trying to escape. An FIR was registered under sections 21, 23 and 28 of the NDPS Act.