2023 Republic Day: India is celebrating its 74th Republic Day today. President Droupadi Murmu commenced the celebrations of the 74th Republic Day, for the first time since assuming office last year, by unfurling the national flag at Kartavya Path. Keeping with tradition the unfurling of the Tricolour was followed by the national anthem and a customary 21 Gun Salute. Notably, it was for the first time that the 21 Gun Salute was given with 105 mm Indian Field Guns. It replaced the vintage 25-pounder gun. 
The Ceremonial Battery was commanded by Lieutenant Colonel Vikas Kumar, SM. The Gun position officer was Naib Subedar Anoop Singh. The 21 Gun Salute is presented during Republic Day, Independence Day and visits of foreign Heads of State. This year's Republic Day is special as `The President's Bodyguard` marked 250 years since its raising, in 1773, at Varanasi. 

Who is Republic Day 2023 Parade Chief Guest?
Egyptian President Mr Abdel Fattah El-Sisi is the Chief Guest at this year's parade. It is for the first time that an Egyptian leader is attending India's Republic Day parade as chief guest. El-Sisi, who is on a four-day visit to India and accompanied by a high-level delegation, witnessed the Republic Day Parade. After the parade, he is set to attend an 'At-Home' reception by President Droupadi Murmu at Rashtrapati Bhavan. Later, El-Sisi will be called on by Vice President Jagdeep Dhankhar and the two sides will hold a meeting.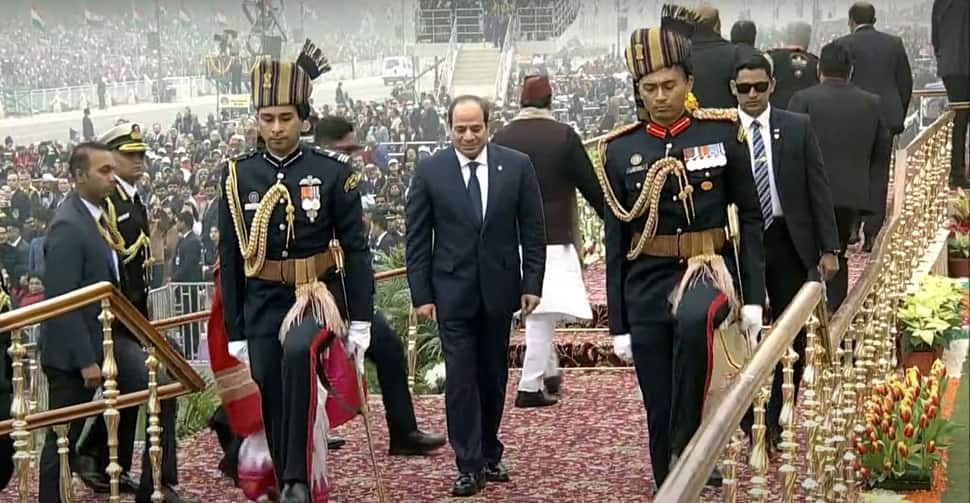 Born in 1954, Sisi grew up in the el-Gamaliya neighbourhood of Cairo. He belonged to a family of arabesque furniture artisans. He graduated from the Egyptian Military Academy in 1977 and was appointed to the post of Director of Intelligence in 2010. In August 2012, he was appointed as the Minister of Defense and the commander of the Egyptian Armed Forces where he remained until his resignation in March 2014 to run for the Presidency. El-Sisi was elected as the sixth President of Egypt in May 2014. 
During the Republic Day Parade, a military contingent of the Egyptian Army also took part along with other contingents. 160 Egyptian military personnel represented the country's armed forces at the Republic Day Parade. Colonel Mahmoud Mohamed Abdelfattah Elkharasawy was the commander of the Egyptian Army contingent.

As India and Egypt are celebrating 75 years of establishment of diplomatic relations this year, New Delhi has also invited Egypt as a 'guest country" during its G20 Presidency.