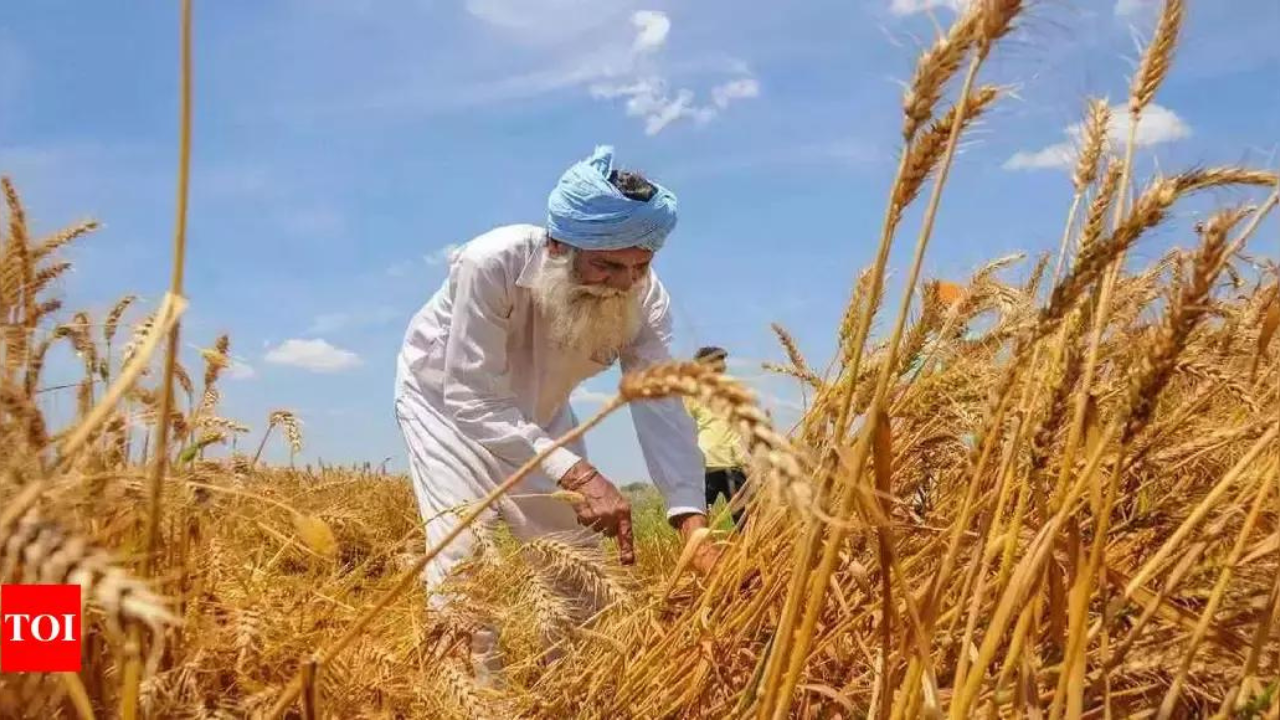 NEW DELHI: Increasing average temperature due to climate change is predicted to reduce yield of all major crops in Punjab by 2050, with the highest loss of 13% being projected for maize, followed by 11% for cotton, 5% each wheat and potato, and over 1% loss for rice compared to the current levels, shows a study published in the latest edition of the India Meteorological Department's journal 'Mausam'.
The study, conducted by agricultural economists and scientists of the Punjab Agricultural University (PAU), used rainfall and temperature data of the past 35 years (1986-2020) to project the impact of climate change on the yield of the five major crops in the state that accounts for around 12% of the total cereals produced in India.
"Our results indicate that productivity decreases with an increase in average temperature in most of the crops. The adverse impact of climate change on agricultural production indicates food security threat to the farming community," said the abstract of the study, conducted by the PAU's researchers Sunny Kumar, Baljinder Kaur Sidana and Smily Thakur.
The study, factored in the increase in mean temperature during the growing period of these crops ranging from 0.22 degree Celsius (for Rabi crops in winter) to 0.73 degree Celsius (for Kharif crops in summer) of rise, shows that the loss would be much higher by 2080 in the business-as-usual scenario. For example, the yield loss will be increased from 13% to 24% for maize, from 11% to 24% for cotton and from over 1% to nearly 3% for paddy (rice). The yield response of wheat and potato would, however, be pretty much the same.
"The findings of the study suggest focusing on climate-smart agriculture for effective solutions to climate risks," it said.
The 35-year data shows decline in overall rainfall by 107 mm during the paddy (rice) growing season (June-September) and by 257 mm during the maize growing season (May-October) which could be the main reason behind over-exploitation of groundwater resources in the state.
The climate data on temperature and rainfall had been collected from five weather observatories of PAU at Ludhiana, Patiala, Faridkot, Bathinda and SBS Nagar. The daily data of temperature and rainfall was converted into monthly data covering different months for making crop periods.
"One of the study's most intriguing findings is that changes in minimum temperature have resulted in changes in mean temperature throughout all growing seasons. It means that the minimum temperature has shown a rising trend," said the report.
On projected yield loss, it noted that the climate impacts on crops will vary widely in Kharif (summer crops) as well as Rabi (winter crops) seasons.
"Amongst the Kharif crops, maize yield is the most responsive to temperature and rainfall than rice and cotton," said the study, noting that the negative impact would accumulate with time.