NEW DELHI: It seems that things are going from bad to worse in crisis-hit
Pakistan
.
On Monday, a vast majority of Pakistan was left without power for many hours as the
Shehbaz Sharif
government's energy-saving measure backfired, leaving citizens in panic and a state of confusion.
This is not the first such instance of a nationwide blackout in Pakistan. The neighbouring country has struggled with power outages for years, including a major incident in January 2021 when a power plant fault collapsed the national grid, prompting calls for an overhaul of aging electricity transmission infrastructure.
Here's why Pakistan faced a blackout this time …
Pakistan's electricity distribution system is a complex and delicate web, and a problem in one section of the grid can lead to cascading breakdowns across the country.
According to officials, electricity was turned off across Pakistan during low usage hours overnight to conserve fuel across the country.
Guess one way of saving electricity/fuel/$ is to switch the whole country off…

— cyril almeida (@cyalm) 1674446580000
Thus, technicians were unable to boot up the system all at once after daybreak.
According to power minister Khan, during winter, electricity usage typically goes down overnight.
"As an economic measure, we temporarily shut down our power generation systems" on Sunday night, he said.
When engineers tried to turn the systems back on, a "fluctuation in voltage" was observed, which "forced engineers to shut down the power grid" stations one by one, Dastgir said. Pakistan economic crisis: Here are the 6 uneasy austerity measures taken by the Sharif govt
Outages were reported in locations including Karachi, Lahore and capital Islamabad, according to local media reports.
It could take as long as 12 hours to fully restore electricity, Geo TV said, citing power minister Khurram Dastgir Khan.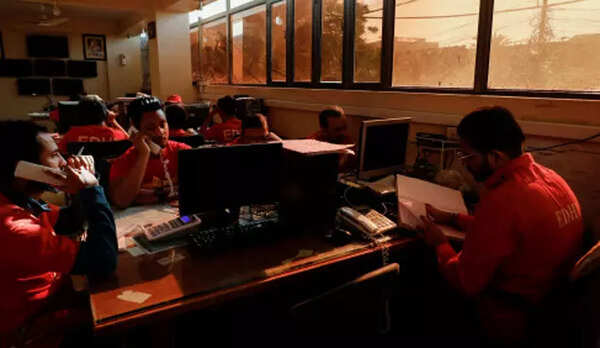 Volunteers of the Edhi Foundation work at a communication and control room during a country-wide power breakdown in Karachi (Reuters)
Pakistan has enough power installed capacity to meet the demand, especially in winter, when it mostly has a surplus.
The country gets at least 60% of its electricity from fossil fuels, while nearly 27% of the electricity is generated by hydropower. The contribution of nuclear and solar power to the nation's grid is about 10%.
But Pakistan lacks resources to run its oil and gas powered plants and the sector is so heavily in debt that it cannot afford to invest in infrastructure and power lines.
In an article published in Dawn, former finance minister of Pakistan Miftah Ismail said that country borrowed heavily from China under the China Pakistan Economic Corridor (CPEC) programme to boost its power capacity but it failed to utilise the benefits to boost growth.
"The CPEC borrowing … was the right thing to do as we really needed power, road and gas infrastructure. The problem, however, was that as we doubled our power producing capacity in those years, we didn't double our industrial production or exports during those five or the ensuing four years," Ismail said.
He noted that instead of setting up up factories, Pakistan focused on building more malls and wedding halls. Thus, Pakistan's debt-servicing requirements for those power plants and gas and road infrastructure increased but ability to pay did not.
1/20
Lights out: Pakistan hit by nationwide power outage
Energy crisis & austerity measures
Pakistan has long been hit by energy shortages because of a combination of factors including a poor economy, mismanagement and a lack of storage facilities.
Hospitals are mostly backed up with generators while schools use gas to heat their classrooms.
Load shedding this winter has impacted domestic households and industries including textile manufacturing, one of the largest industries in Pakistan, with some plants temporarily closed.
Earlier this month, Pakistan government announced austerity measures to tackle the growing energy crisis in the country, ordering all wedding halls, malls and markets to close by 8:30pm.
The crisis was such that even an important cabinet meeting was held without electricity.
"No lights were on in the cabinet meeting today. The meeting was held in full sunlight," Pakistan defence minister Khawaja Asif had said.
Asif had said that if 20 per cent of the government workforce worked from home on a rotation basis, Rs 56 billion could be saved and coupled with a few steps, the country would be able to save Rs 62 billion.
He also said that energy-efficient fans and bulbs would soon be introduced to help save Rs 38 billion and electric bikes would replace traditional motorcycles to reduce the consumption of petrol.
(With inputs from agencies)