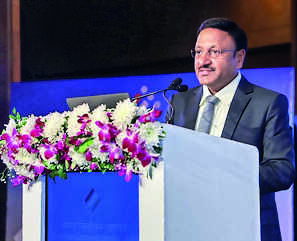 NEW DELHI: Chief election commissioner Rajiv Kumar on Monday raised concern over level-playing field not being built into results thrown up by search engines, to "at least show officially verified versions with the same prominence as fake content" that could set off a misleading narrative to discredit the election process.
Addressing the three-day international conference on 'Use of Technology & Elections Integrity' being organised by the
Election Commission of India
, Kumar flagged the "disturbing trend of deep fake narratives that have become a common feature in elections worldwide, where disruptive elements attempt to alter public perception and mislead the user by repetitively presenting the deep fakes as fact". He added that verified official versions are listed way down in the search results or may not be reflected at all.
The EC pointed to similar attempts to discredit the EVM technology with fake news, giving the example of an old statement on EVM hacking attributed to former chief election commissioner T S Krishnamurthy and widely circulated on social media. Even though Krishnamurthy himself had then denied having made the statement and put on record his faith in credibility and reliability of EVMs, the fake news item continues to be revived and recirculated on social media around elections.
Kumar pointed out that social media intermediaries, through their algorithm power and artificial intelligence (AI), have the capability to detect the deep fakes proactively, especially in jurisdictions like India where electoral cycles are definite and known well in advance.
Using the analogy of law enforcement agencies, he said it is difficult to imagine a scenario where they refuse to act unless crime is reported to them. Stating that enforcement agencies cannot sit back saying that intelligence and prevention is not their responsibility, the CEC raised prominent questions like who carries the primary responsibility to identify blatant and system-detectable fake content and prevent it from getting uploaded or circulated on social media platforms.
The conference, second of three to be hosted under Cohort on Election Integrity led by ECI, is being attended by delegates from 16 countries including heads and deputy heads of nine election management bodies (EMBs).